Ice machines and ice makers. Modular, Under-counter and Countertop Dispensers. Crushed, Cubed, full and half moon models with bins.
Modular, or Ice Machine Head
Modular ice machines are commonly available in 48″, 30″ and 22″ widths, & are designed to sit on top of an ice machine bin, an ice machine dispenser, or a soda fountain machines. Typical outputs range from 250 lbs. per day to well beyond 1000 lbs. per day.
Manitowoc 1300 lb Commercial Ice Machine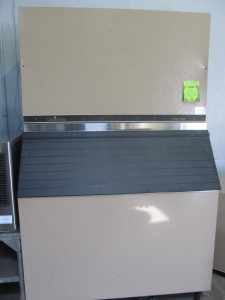 208-230v
R403
Phase 1
Water Cooler
Dimensions:
Width: 48, Height: 24, Depth 28

Under-counter Ice Machines
If you're running a small bars or cafes, , an undercounter, or self-contained ice machine might be all you need to get the job done. These smaller ice makers combine the ice machine with a storage bin, and fit right under your counter! Typical output for an undercounter ice machine is about 350 lbs. per day.
Countertop Ice Dispenser / Makers
Often found in health care settings, these units may dispense water too. They have smaller bins, but can still produce up to 400 lbs. of ice per day, making them a great small commercial ice maker. They usually dispense nugget style ice, which is more chew-able.
*If you don't see what you're looking for below, please give us a call (new items arrive daily!)