Increase Impulse Sales and Profits with a Dry or Refrigerated Display Case!
Show off delectable treats with a refrigerated display case! These high quality refrigerated display cases are ideal for displaying colorful baked goods like ice cream cakes, pies, and pastry puffs. Choose your bakery cases from a number of different styles to best suit the needs of your business.
At P.U.R.S., you'll find frozen food and freezer display cases, metal frame and wood frame display cases, wall mounted cases and many more open air cases and display cases that can beautifully adorn your open spaces.
All of Our Refrigeration comes with a limited LIFETIME WARRANTY. We also, take trade-ins and  offer worldwide shipping and local delivery.
If you don't see what you're looking for, give us a call. Many items have not yet been added to the site.
602-471-9749
Howard McCray (SC-OS30E-3) – 39" Multi-Purpose Open Merchandiser – Ovation Series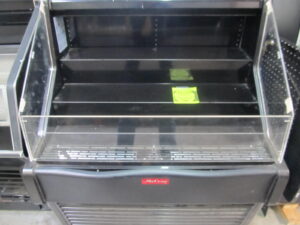 NEW (Floor Model)
Howard McCray's 39" Multi-Purpose Open Merchandiser is a fantastic way to boost impulse sales! Place a unit near the point-of-purchase for customers so that they have easy access to grab refrigerated goods, such as pre-packaged sandwiches and beverages.
39 x 30 x 44
$1750
Randell Refrigerated Curved Glass Display Case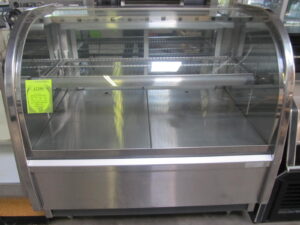 Refrigerate display case with see-thru  sliding glass rear doors. Sleek curved glass front, stainless steel exterior & mirrored interior.
30 x 27.5 x 28
$2200
Master-Bilt MPM48 – 48″ Refrigerated Open Air Display Cooler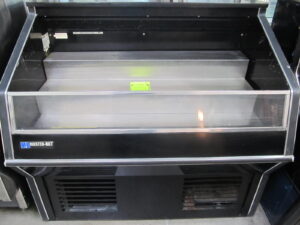 Medium-Temperature Open Display Merchandiser. Self-service, self-contained refrigeration 3 tier stainless steel display deck
48 x 30.5 x 43.5
$1795
Federal RSSM460SC Self-Service High-Profile Refrigerated self-service, high profile specialty merchandiser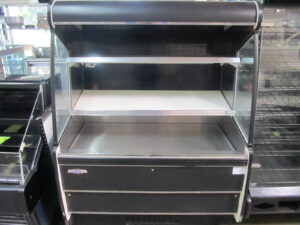 Two tiers of shelving can be flat or slantedAdjustable heavy-duty metal shelves w/price tag moldingsTop-mount  lighting to make your products shine!
47.25 x 35.25 x 60
$3500
Randell 4030 GA Counterpart Display Refrigerator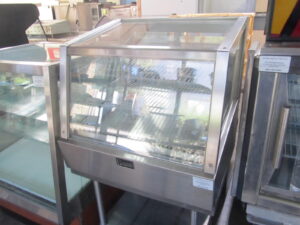 The 4030GA features angled shelves, rear sliding glass doors,  and a stainless steel interior and exterior. The glass on all  5 sides makes sure your products get seen!
30 x 28 x 27.5
$1500
Randell Wall Mounted Commercial Cooler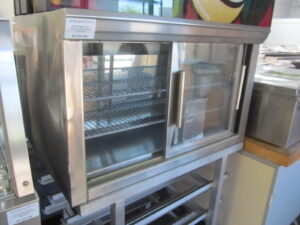 No more room on the floor for refrigeration? Put it on the wall! Sliding Glass doors. Heavy-Duty adjustable Shelves. Mirrored interior.
36 x 28.5 x 22.5
$1200
Federal 3650SC 36″ Refrigerated Bakery Case
High Volume Refrigerated Bakery Case, top light and lighted shelves, three tiers of adjustable, glass sliding rear doors.
115V/60Hz/Ph 1
35 x 36 x 50
$2000
Federal High Volume Bakery Merchandising Case
Federal's High Volume bakery merchandising cases display the maximum amount of product and serve more customers while staying within your budget.
Non-Refrigerated, Dry Case.
76 x 31 x 53
$995
QT Donut & Pastry Upright  Display Case
6 Slanted Wire Shelves, Self-Closing See-Thru Doors. Well-Lit and Mirrored Interior. Price/Letter Slots on the Top. Baggie and Tissue Dispensers Below.
28.5 x 33 x 69
Federal Industries IPC7631DC-3 Pastry Case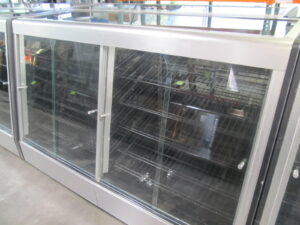 Front access on customer side with 4 sliding glass doors for sanitation and attractive appearance. Rear service doors are stainless framed and exterior panels stainless. Glass Top T-8 Lighting is 120V 1.7 Amp draw total With casters for easy mobility and for cleaning beneath
76 x 31 x 53
$1200
Refrigerated Grab & Go Display Case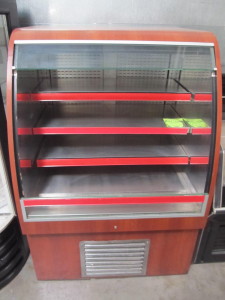 Easy access two tier refrigerated display case. 115v
36″ x 30.5″ x 52″
$1900